Some people go to the gym for years and never see change. Why? Progressive Overload.
Let's start here; There are three types of people when it comes to fitness:
TYPE A
They don't have big body change aspirations and go to the gym for a different reason, stay healthy, feel good, be part of a community or just get their body moving after long days of sitting.
TYPE B
They want to change but keep doing the same workouts, and outdated bro splits over and over again; they don't apply Progressive Overload to their training. And/or missing out on sleep, nutrition and other essential elements, more about that in following weeks.
TYPE C
They make progress.
When you first start the gym routine, it almost doesn't matter what you do, going from doing nothing to doing something almost always delivers results. However, after several weeks of appropriate training, your body starts adapting, and if you want to keep progressing, you have to change your program.
Therefore PROGRESSIVE OVERLOAD  is one of the foundational principles of exercise science when it comes to muscle growth and development.
WHAT IS PROGRESSIVE OVERLOAD?
'Progressive' – Happening or developing gradually or in stages. 
'Overload' – Burden, pile, or to give someone more work or problems than they can deal with. 
Progressive Overload by definition is a gradual increase of stress placed upon the body during training, and there are many ways how you can approach it, not just by adding more weight.
Progressive overload is simply doing more over time, and that explains why structured training never gets easier; you only become better and more adapted.
THE STORY OF A WRESTLER AND BULL
Legend says that Milo, the most successful ancient Greece wrestler of his time, decided to carry a baby calf one day as a part of his training routine. He continued his strategy for four years until he was not carrying a calf anymore, but a four-year-old bull. This explains the core principles of strength training and muscle building. 
The main point is an adaptation to stimuli over time, as the baby calf was growing and getting heavier, Milo's muscles were growing, and all other systems including tendons, ligaments and fascial system developed with it. The same principles apply to resistance training; over time, you want to be progressively overloading your muscles and maximise your effort and time.
Therefore journaling and tracking your training programs is a great practice and can only help you identify what's working and what needs more attention.
To improve, you need to expose your body to a specific stimulus to the quality or intensity which isn't adapted, exactly what Milo did: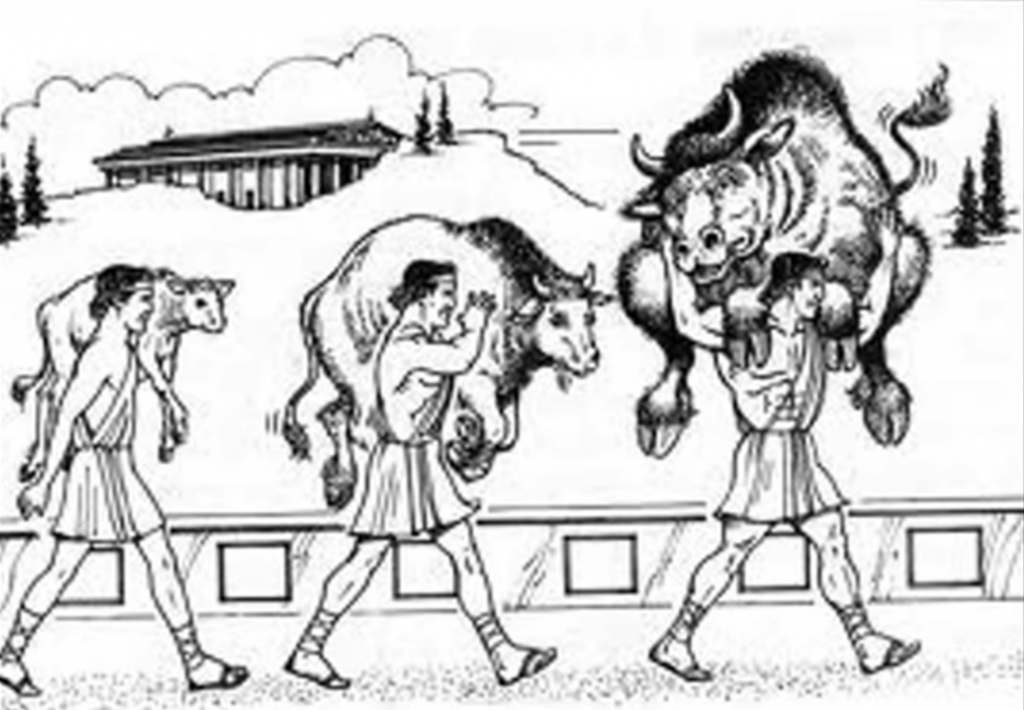 3 IMPORTANT RULES OF PROGRESSIVE OVERLOAD
Perfect form over PO: When doing resistance training, always aim to keep the same form for all repetitions. Often we are tempted to squeeze in another extra rep or two and sacrifice the form. That often leads to loss of tension in worked muscle or muscle group, compensation, and leads to learning suboptimal movement patterns.
PO can be difficult when losing weight: When in an energy deficit, your body is already being challenged by reduced energy intake. Unless you are a beginner, increasing strength at this stage is difficult, but maintaining strength while losing body fat is a form of progressive overload.
PO isn't always linear: Sometimes your body won't respond as you expect, but it's normal. Too many variables influence your strength. Often lack of sleep, alcohol intake, high-stress levels or not enough appropriate nutrients in a diet cause a drop in strength and the way you feel.
There are many other ways to apply progressive overload, rather than just increasing weight every week: 
Increase efficiency:
Better form and control naturally happens over time, aim for higher-quality reps each workout; this always should be a priority.
Increase resistance:
More weight means more challenge. Keep in mind there is an inverse relationship between load and reps. The more weight you add on, the fewer reps you'll be able to complete with perfect form.
Increase repetitions:
Simply add more repetitions. If your goal is to build size, you can't just add more reps infinitely. The exercise science recommends 8-12 repetitions for muscle growth. Once you hit 12 reps on the last set, add more weight next time or try another way of PO. Remember to keep track of what you are doing.
Alternate tempo:
Speed of lifting, the slower tempo is associated with muscle growth, especially the negative (eccentric) part of the movement. It's always better to move weights slower, especially when doing a new exercise.
Increase range of motion:
Increased distance or range motion, this can be achieved by improving mobility or adding an external piece of equipment or object.
Increase density:
The amount of work vs time, timed sets are a great example.
Increase in frequency:
Increase the number of training sessions throughout the week, and if your goal is to build muscles, you should train each muscle group at least 2x a week.
The exercise type  
Modify the mechanics, use bands or chains.
All of these techniques not only maximise your time and stimulate muscles to grow, but they will also prevent boredom and save your joints from unnecessary stress.
Just remember, something has to change for you to change.
REFERENCES:
www.advancedcoachingacademy.com/lesson/factors-involved-in-hypertrophy-and-strength/

https://www.advancedcoachingacademy.com/lesson/hypertrophy/
https://bretcontreras.com/progressive-overload/